Biography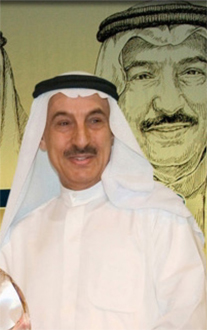 Having a distinguished career spanning a period of over forty years, Mr. Qasim Sultan Al Banna rose through the ranks of the Dubai Municipality in the United Arab Emirates. Starting from the level of Assistant Engineer in 1960, he was promoted to Assistant Director of the Technical Sector, and progressed successively to the posts of Deputy Director, Acting Director, and Director General of the Municipality from 1993 to 2006.
As a result of his effective leadership that transformed Dubai into an efficient metropolis, the United Nations Centre for Human Settlements (UNCHS) awarded its Scroll of Honor to Mr. Qassim Sultan in 1994 and in 1998 he was appointed the first Goodwill Ambassador for the UNCHS in the Arab region. In 2005 Mr. Sultan was also awarded the University of Alexandria Honorary Award for Regional Leadership.
The Dubai Municipality's high performance standards have also been recognized through other international awards including those of the Arab Towns Organization in the fields of environmental protection and conservation of historic buildings, an Australian award in waste management, the "Pioneer Award 1999" awarded to Dubai Municipality in New York by "International Council for Caring Communities", and the Great International Cannes Prize granted by the Mediterranean Network for Water and UNESCO in 2001.
In addition to his duties as Director General of Dubai Municipality, Mr. Sultan performed numerous other tasks involving government policies and operations. He served in Boards of Directors of several organizations and associations and effectively contributed to non-governmental activities including his chairmanship of the "Al Ahli" sports and cultural club in Dubai.
Among the numerous local, regional and international roles performed by Mr. Qassim Sultan, mention can be made of these:
Locally:
Acting Director of Dubai Municipality since (1982).
Director General of Dubai Municipality (1992-2006).
Chairman of the Department of Health and Medical Services – Dubai (2001-2005).
Member of the Dubai Development Board in Dubai (1994-2000).
Chairman of the Development Board – Dubai (2001-2004).
Chairman of the organizing committee for the annual meetings of the World Bank and International Monetary Fund – Dubai 2003.
Chairman of the Board of Trustees of the Dubai International Award for best practices to improve living environment.
Chairman of the Dubai International Conference on Best Practices organized jointly by Dubai Municipality and the United Nations Center for Human Settlements UNCHS, November 1995.
Member of the Executive Council of the Emirate of Dubai (2001-2006).
Vice Chairman of Trustees Shaikh Hamdan Bin Rashed Al Maktoum Award for Medical Sciences.
Member of the General Secretariat of Municipalities in UAE (1984-2006).
Member of the Board of Directors of the Federal Environment Authority in UAE.
Member of the Board of Directors of the Authority of Standardization and Metrology in UAE (1982-2006).
Chairman of Al Ahli Club from 1974 until 1985
Then Chairman of Al Ahli Club from 1987 until 2006
President of the UAE Basketball Federation, and Honorary Chairman of the UAE Basketball Federation since (2006).
First Deputy to the President of the UAE Olympic Committee.
Regionally and Internationally:
Chairmanship of the Arab Towns Organization (ATO) (1994 - 1997).
Member of the Islamic Capitals and Cities Organization committee, Saudi Arabia(1992-2006).
Member of the Executive Office of the Arab Towns Organization (1992-2006).
Member of the U.N. Secretary Generals Advisory committee of Eminent Personalities for the Habitat II Conference (June 1996)
Member of the United Nations Advisory Committee on Local Authorities (UNACLA) (2000-2006).
Chairman of the concluding Plenary Session of the International Union of Local Authorities (IULA) World Congress held in Mauritius (April 1997)
Head of the delegation of the World Assembly of Cities and Local Authorities Commission (WACLAC) for the Dialogue Session with the UN Commission on Sustainable Development in New York (April 1997)
Appointed as a Goodwill Ambassador for the UNCHS (1998)